Donnis Borcherding: From Bookkeeping to Vice President
When Donnis was a high school student, she didn't really know what she wanted to do after graduation. She knew a four-year college education didn't appeal to her, so she attended a one-year business program through Hamilton Business College.
Right after completing her education, Donnis got married and worked alongside her husband on the farm. However, they soon realized that wouldn't be enough.
"The only reason I really went to work was because we needed the benefits," said Donnis. "We needed the insurance. Being self-employed today, and even back then, getting your own insurance is just too, too much. So, I decided to find a job that had insurance and benefits."
Since then, Donnis has learned that the whole benefits package is more important than just a wage.
"You know, sometimes I think people don't even realize how important that is. But then once they do have it after maybe coming from a place where they didn't have PTO or insurance, they realize that it's a big, huge benefit," said Donnis.
Donnis began working in the accounts receivable department at a Hampton company for one year before she moved to Hampton State Bank. Although Donnis didn't have an education specific to banking or prior banking experience, she learned quickly.
"In a small community bank, you wear many hats, and you learn different things," said Donnis. "Even though you might be a Teller or a Bookkeeper or whatever it is within a small bank, it is so easy to learn more."
That is how Donnis developed her skillset—through learning on the job. Donnis was hired as a Bookkeeper and then about 6 months later, became a Teller. She then went back to bookkeeping and continued to grow in her position.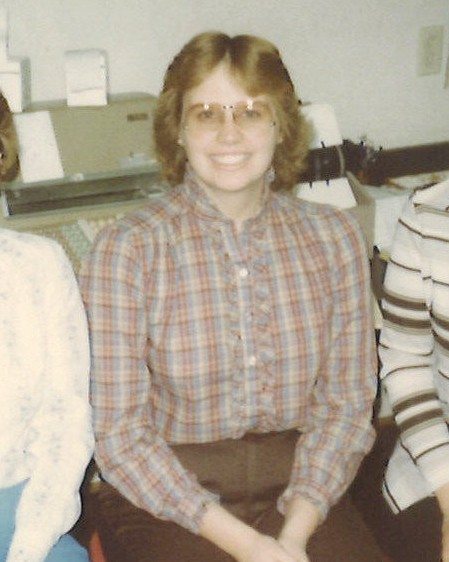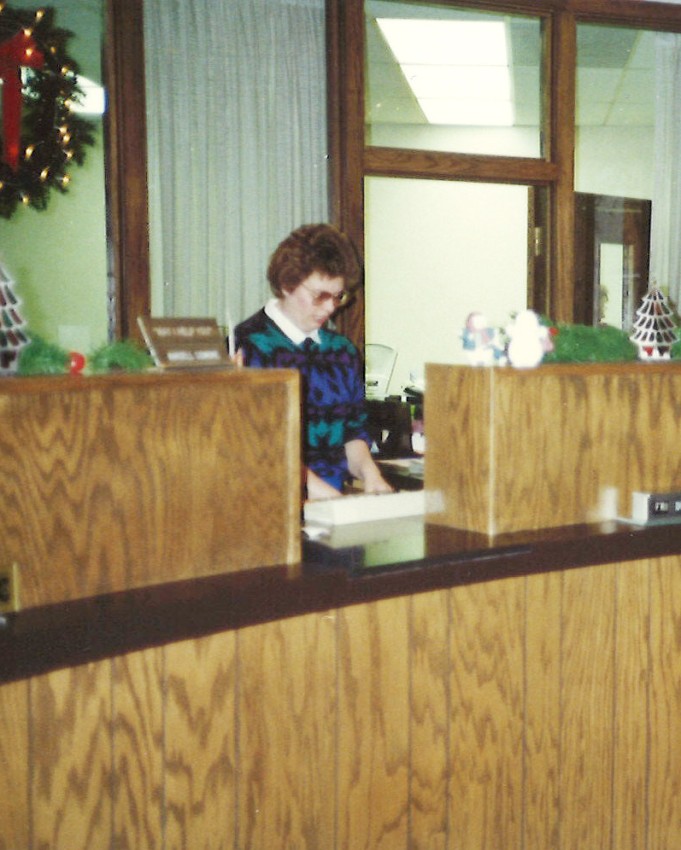 Photo (left): Donnis in her first banking role as a Bookkeeper in 1982.
Photo (right): Donnis working as a Teller in 1985.
As Donnis learned more about how deposits and loans worked, she had to learn more about compliance. As she learned about compliance, she became involved with communicating information about products and services to customers.
As Donnis reiterates, "I've worn many hats."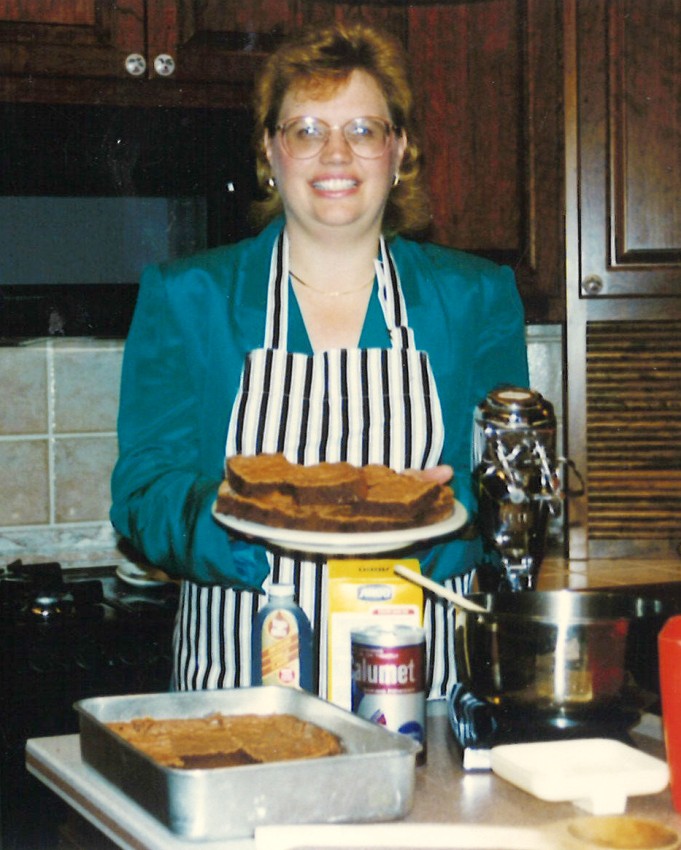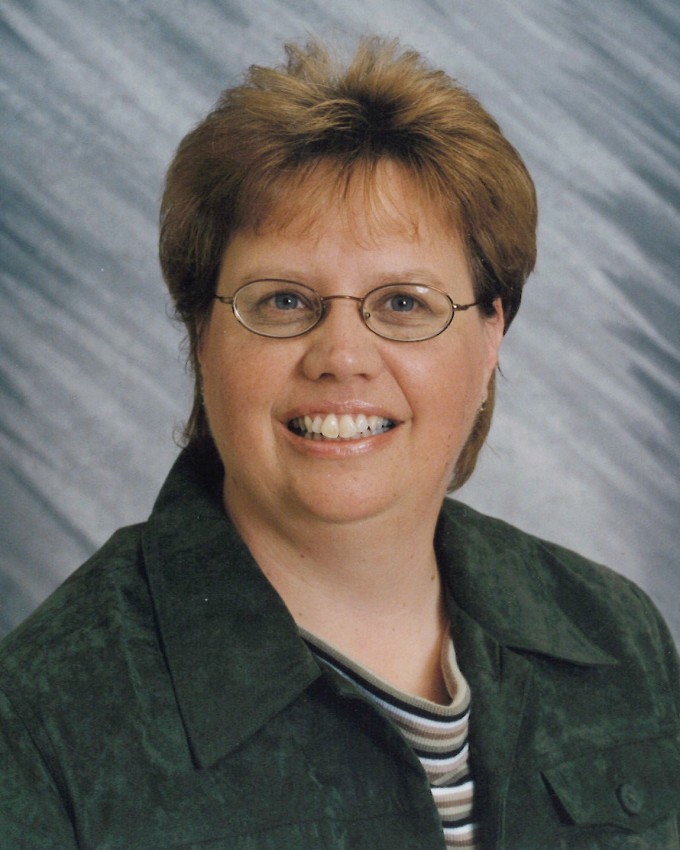 Photo (left): Donnis posing for a bank advertisement in 1996.
Photo (right): Donnis' headshot in 2003.
In December of 2015, 36 years into Donnis' banking career, Hampton State Bank merged with First Security Bank.
Now, 44 years into her career, Donnis is the Vice President, Operations Manager at First Security. The operations department is full of behind-the-scenes employees that ensure the bank's core systems are working and that transactions are completed in an accurate and timely manner. Donnis is also involved with overseeing the Service Center at First Security, a department that works with customers over the phone to answer a wide variety of questions or else forward them to a specific banker.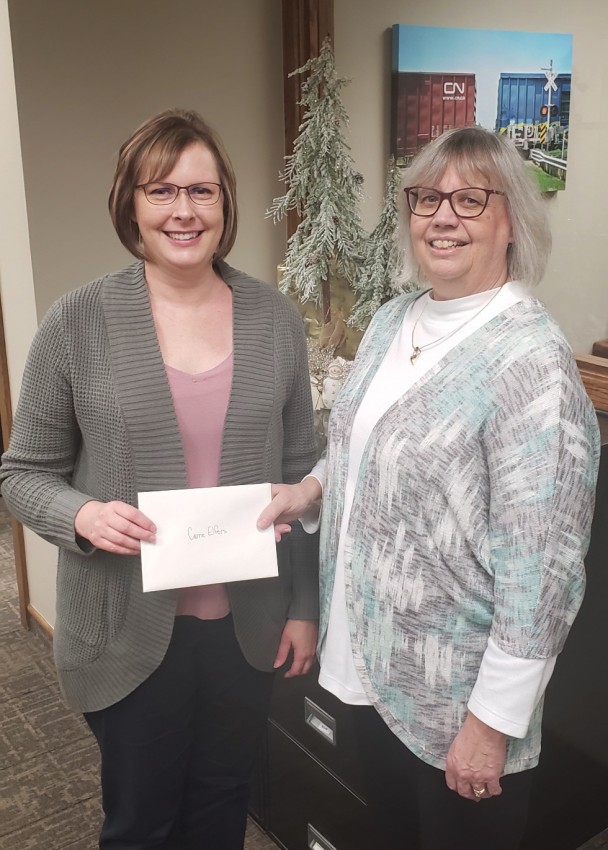 Photo (above): Donnis congratulating Carrie Elfers, a member of Donnis' department, on her 15-year work anniversary.
"I always liked the Operations side because I enjoy working with numbers and seeing how everything flows and works together," said Donnis. "It's also very enjoyable for me to work with customers and help them. I enjoy doing what I can to make their life easier, to help them keep their earnings safe, and help them find different products and services to use instead of stressing about money."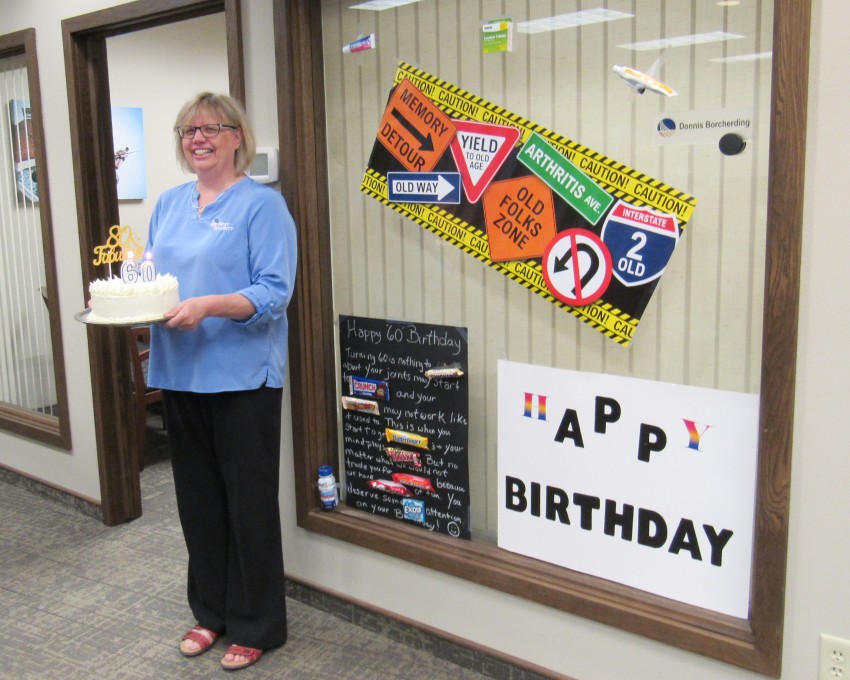 Photo (above): Donnis celebrating her 60th birthday at First Security.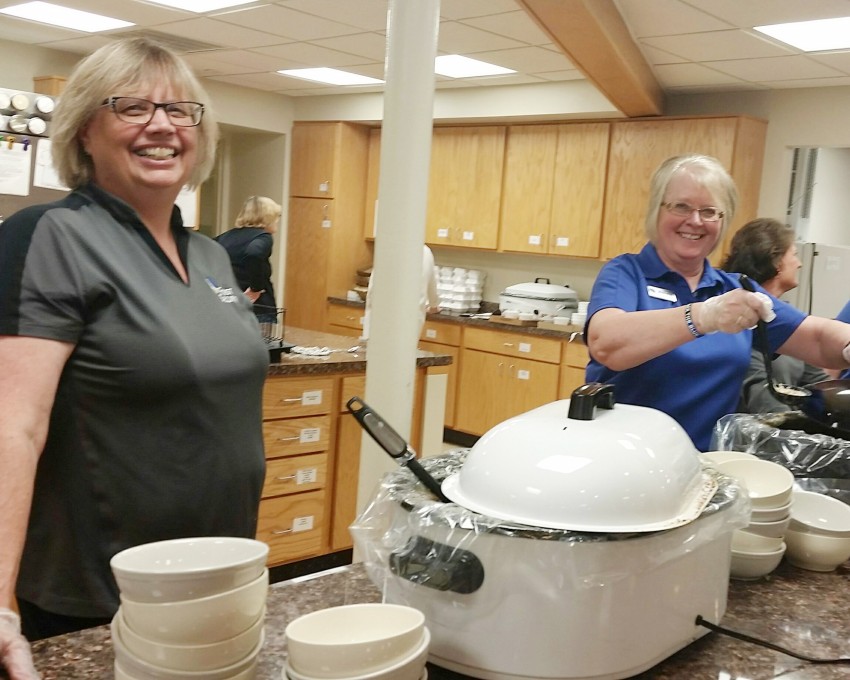 Photo (above): Donnis and her long-time coworker and friend Michelle Schaefer volunteering at a community meal.
Photo (above): Donnis with other Hampton staff at a school event.
Donnis' career path is still an option for those wanting to give banking a try today.
"We have different positions where you can get a start and learn more from there," she said. "The Teller line is a very good place if you like working one-on-one with customers. Taking phone calls in the Service Center is another great place where you can learn a lot on the back side, and you also gain a lot of knowledge just by learning how to answer all the questions we get from customers."
She added that, unless someone is hoping to start in a higher-level position, she sometimes thinks it can even work better for a new employee to come to the bank without an idea of what to do. It's an opportunity to work closely with a good trainer, find a skill set, and develop accordingly from there.
"Just don't think, 'oh, I can't do this job,'" said Donnis. "Don't hold back. I feel like if you put your mind to it, even if you don't think you have the skillset, you probably do. It's just that you need to be confident in yourself. You need to be willing to work hard, ask a lot of questions, and learn. Whenever an opportunity comes along where you can learn something, grab it, and try whatever is asked of you. You could take this job, make it a career, and go as far as you want to go."
Are you interested in what job opportunities are available at First Security? Check out our listings here!
First Security Bank & Trust has locations across North Central Iowa and headquarters in Charles City. Member FDIC. Equal Opportunity Employer.