Amy Wilson: From Broadcasting to Banking
When Amy Wilson was in high school, one of her favorite extracurricular activities was speech. When it was time for college, she expanded on that skill by studying broadcast media. Although she practiced both television broadcasting and radio, radio was what interested her most. After college, she worked for two stations under both her own name and her deejay name, Gwen Taylor.
Photo (above): Amy conducting an interview for a broadcast.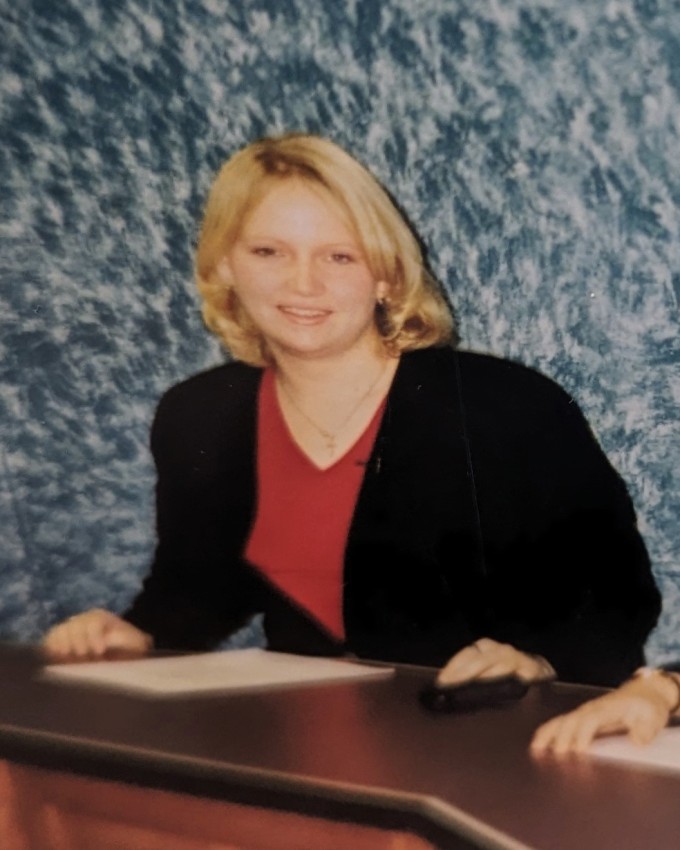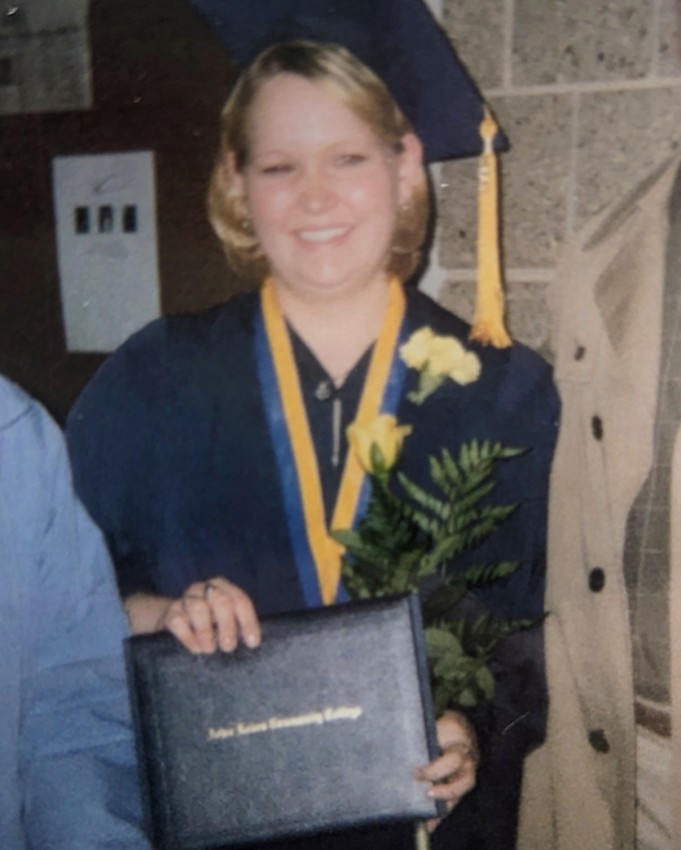 Photo (left): Amy before a television broadcast.
Photo (right): Amy graduating with a degree in broadcast journalism.
Amy worked for the radio station for a while before she got into selling cell phones for a local retailer. She was the store's manager for ten years. She became accustomed to working long shifts, often starting her day at 9 am and ending at 7 pm or later if a customer needed help.
However, Amy and her husband now had two children. Amy was looking for a job that could provide her with a more family-friendly work schedule. Staff at First Security knew Amy from the different times she'd assisted with setting up the bank's cell phones. With her good reputation, an employee referral, and an application, she got her foot in the door as a teller.
"When I first started here, I was just very excited for the hours," said Amy. "So, the fact that, with a family, I could be done with work at 4:00 or 5:00 pm, that was just really great for me."
Amy also said that working as a teller provides great general knowledge in banking, and that experience can allow one to branch out in many different positions within the bank. In Amy's experience, she was in the teller role for about six months before she was recruited to work for another department at First Security that was then called eServices.
eServices was a behind-the-scenes department that was responsible for a variety of tasks ranging from handling ACH files and online banking, to eStatements and mobile deposit. Amy's comfort level with technology from working at the cell phone retailer and her new banking experience made her a great fit for the department.
Since then, Amy has worked in several other areas of the bank: the Service Center, the Loan Operations Department, the Ag/Commercial Lending Department, and Data Services. Now, almost 11 years later, she is back in the Service Center, but as the department's supervisor.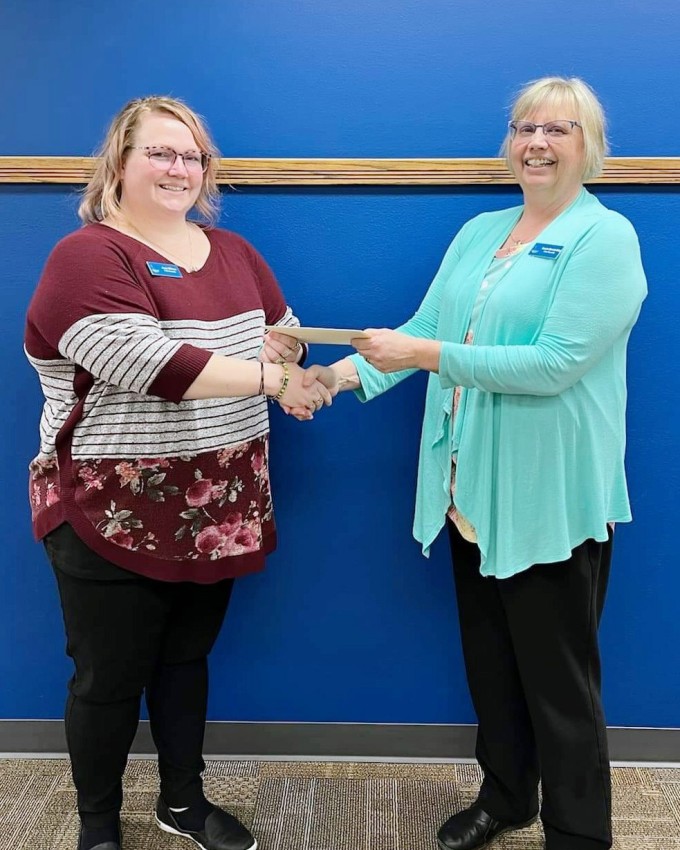 Photo (left): Amy receiving her 10-year anniversary reward.
"I've just done a variety of things that I never thought I would ever do," said Amy. "But I'm glad I did because they got me a very good general knowledge of pretty much all the things that are happening in the bank."
When asked if her younger self ever thought she'd be where she is now, she said, "I would have said, 'why would I work in a bank?'"
Now she knows the answers: the people and a family-friendly work environment.
"There are so many people that you meet, whether it's customers or coworkers. You forge a lot of friendships," said Amy.
Better working hours so that Amy could be with her young family was her motivation to apply 11 years ago. First Security's family-friendly environment has been a reason to stay.
"I've enjoyed how family-oriented the bank is. If something comes up and you've got to leave, in my experience, everyone is willing to help so that you can go."
Photo (right): Amy and her two children.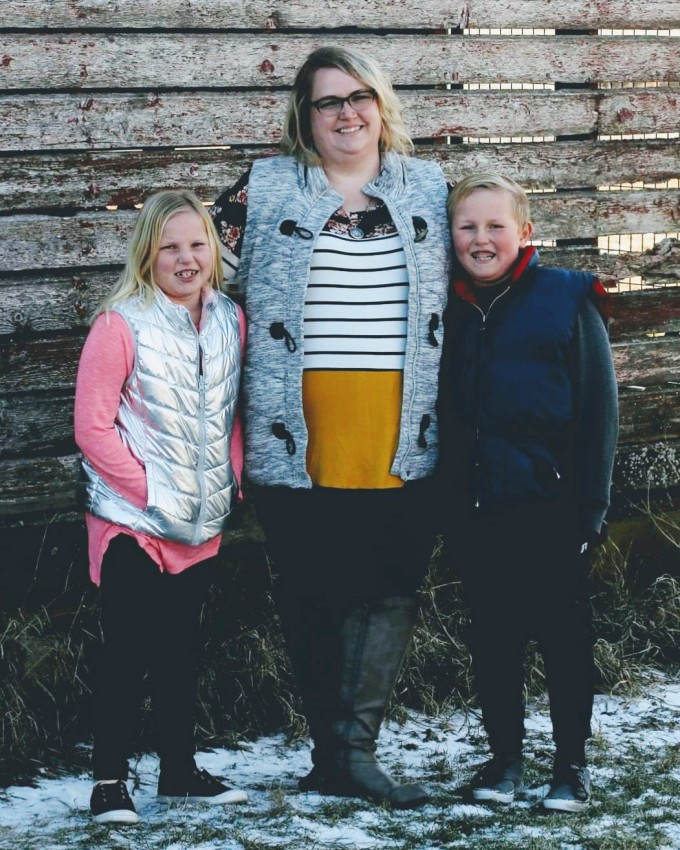 Are you interested in what job opportunities are available at First Security? Check out our listings here!
First Security Bank & Trust has locations across North Central Iowa and headquarters in Charles City. Member FDIC. Equal Opportunity Employer.