Kelsey Carpenter: From the Cadaver Lab to Loan Closings
After receiving her Bachelor of Science degree from Upper Iowa University, where she majored in biology, minored in chemistry, and received a coaching endorsement, Kelsey Carpenter was well on her way in pre-medical studies. Soon, she applied to graduate school and was accepted to the Doctor of Physical Therapy Program at Des Moines University.
"I was there for a semester before I was questioning what I wanted to do with my life and my career," said Kelsey. "So, I decided to take time off from school."
(Below: Kelsey Graduating with her Bachelor of Science Degree and her badge at Des Moines University)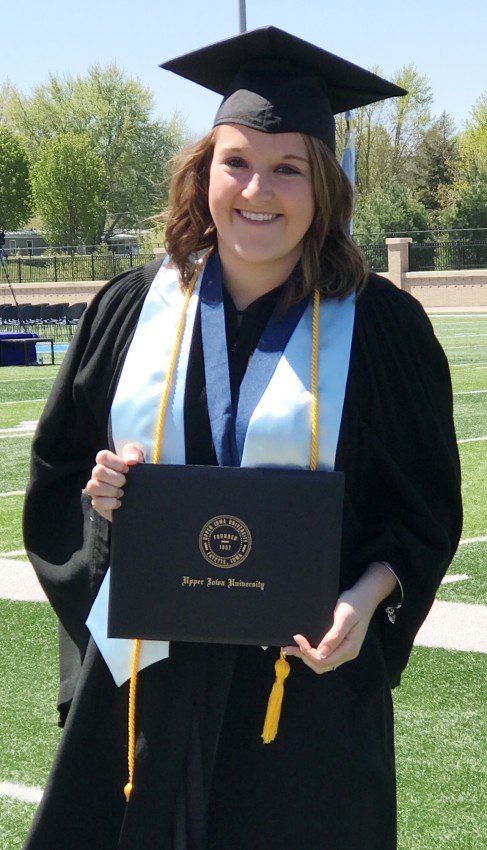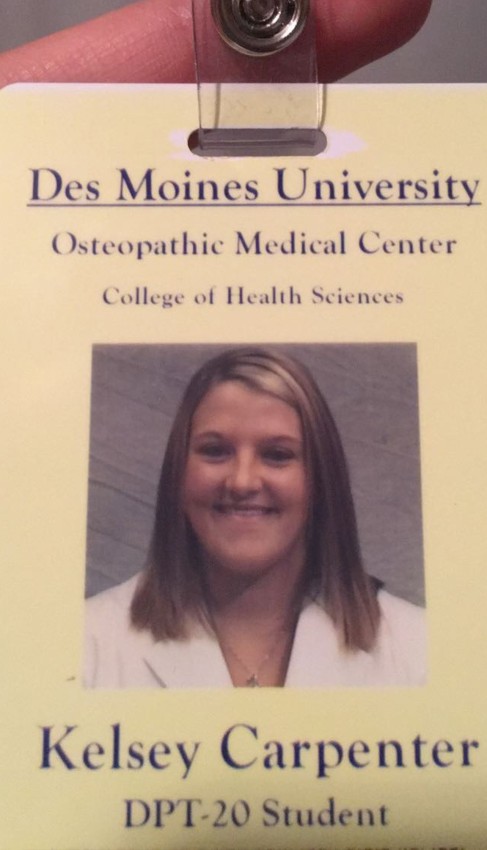 During that break from graduate studies, Kelsey went to work for a bank in Des Moines. Her first title was Cards- ATM Specialist, but she was soon promoted to Cards- ATM Analyst.
"When I started there, I was still questioning if I made the right choice, but as I began to learn, I almost immediately realized it was the correct decision," she added. "I felt I was catching on to things fairly quickly, and then I started to feel happy with what I was doing and wanted to learn more about it."
She gained over four years of experience in different areas of the bank including debit cards, ATMs, personal banking, and loans.
Kelsey left that bank to move north, closer to her hometown and her soon-to-be fiancé. She applied at First Security and became the bank's Loan Assistant Supervisor.
"Our main job right now is preparing loan documents for loan closings on the ag/commercial side of the bank," said Kelsey. "Whether it be ordering abstracts, title opinions, collecting hazard insurance – we're getting everything ready for the lenders to go to loan closings with customers."
Kelsey has also been involved with revamping the Ag/Commercial Lending Department at First Security. In addition to Ag/Commercial Lenders and Loan Assistants, the department now employs Relationship Managers. Relationship Managers are trained to work closely with lenders and their customers to reach a comfort level that allows them to act as a second point of contact to a customer's primary lender.
As a working supervisor, Kelsey trains, oversees, and provides leadership for other Ag/Commercial Loan Assistants and has been involved with figuring out the workload balance between them and the Relationship Managers. She learns what tasks staff members are taking on and what positions they plan to stay in or move into.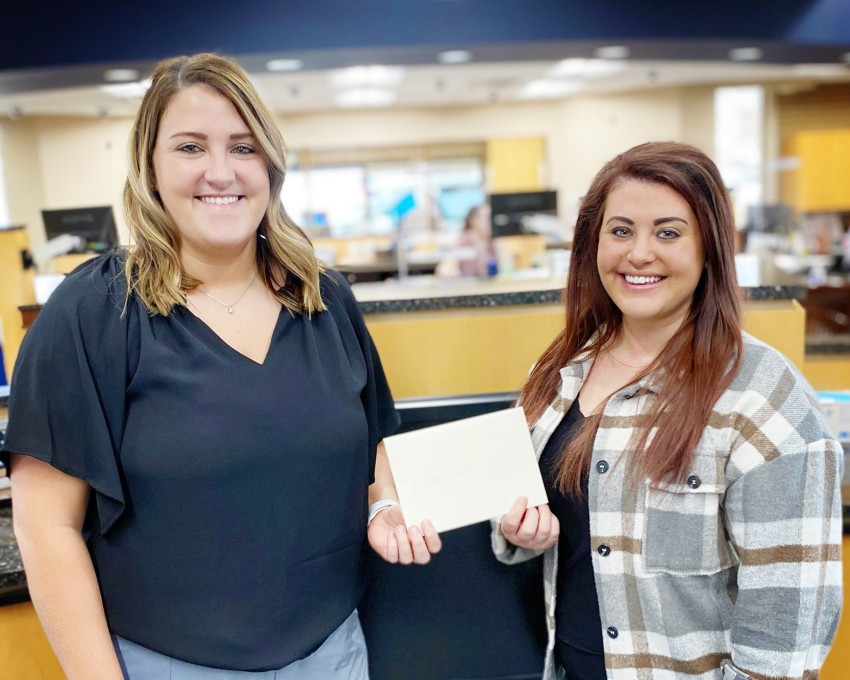 (Above: Kelsey congratulating First Security's Abby Johnson on her one-year anniversary with First Security. This year, Abby was promoted from Loan Assistant to Relationship Manager.)
"Looking back, I do think this was my calling," said Kelsey. "I thoroughly enjoy what I do here. I like the changing atmosphere, the opportunity to learn things, and new challenges."
With an upcoming wedding and hopes for a growing family in the years to come Kelsey also really appreciates the family-friendly work environment and flexible schedule First Security offers.
She said, "The one thing that has really stood out to me is the flexibility at First Security. Just knowing that if I have an appointment I need to go to or if something comes up, I can simply just say, 'hey, I need to take off. I'll be back.' I really appreciate that I'm not going to get questioned and that I have the ability to do that."
So, if you're thinking of switching career paths, or even thinking about applying at a bank (hopefully, at First Security!), Kelsey offers great advice:
"Don't be afraid to try. Even if you think it's something that you never pictured yourself doing. In our department right now, we have someone who went to school for cosmetology, someone who's worked at the school, and other people who have been in the health care field. I mean, the worst that can happen is you can figure out that it's not for you, but you won't know unless you try."
First Security Bank & Trust has locations across North Central Iowa and headquarters in Charles City. Member FDIC. Equal Opportunity Employer.